Integrated Calendar & Hyperlinks are Here!
After months of development we are thrilled to announce the addition of two of the most requested features: an integrated calendar and hyperlinks.
The new calendar is accessible right from the sidebar menu.  Once you create your episodes, the calendar grabs the episode numbers and has them available to you for fast entry and filtering.  You can now enter all important deadlines in the calendar and have them immediately available to everyone on the writing team, or to anyone with access to your project.  Never lose track of another important deadline or delivery.
Also, viewing and outputting is super-slick.  View the calendar by day, week, month, and year.  You can also print out an agenda as well as a list of all upcoming dates and deadlines.
When editing cards you can now add a link to a website to share your research, thoughts, examples, locations, actors, images…anything!  
In regular card editing, look for the link icon at the top left of the card, right after the icons for bold, italics, underscore, and strikethrough: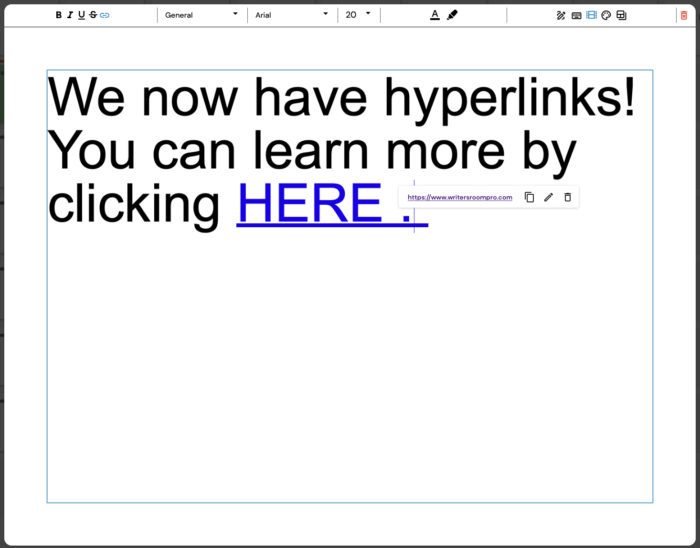 Highlight the word on your card that you want to turn into a link, and then click on the hyperlink icon.  Type (or copy and paste) a website or link, and now you can easily jump from your card to that webpage.  
Clicking on the linked word in card editing opens the link window were you can copy, edit, or delete the link.
We have some more, and even more exciting updates coming at you…but that's an update for another day.