Home Page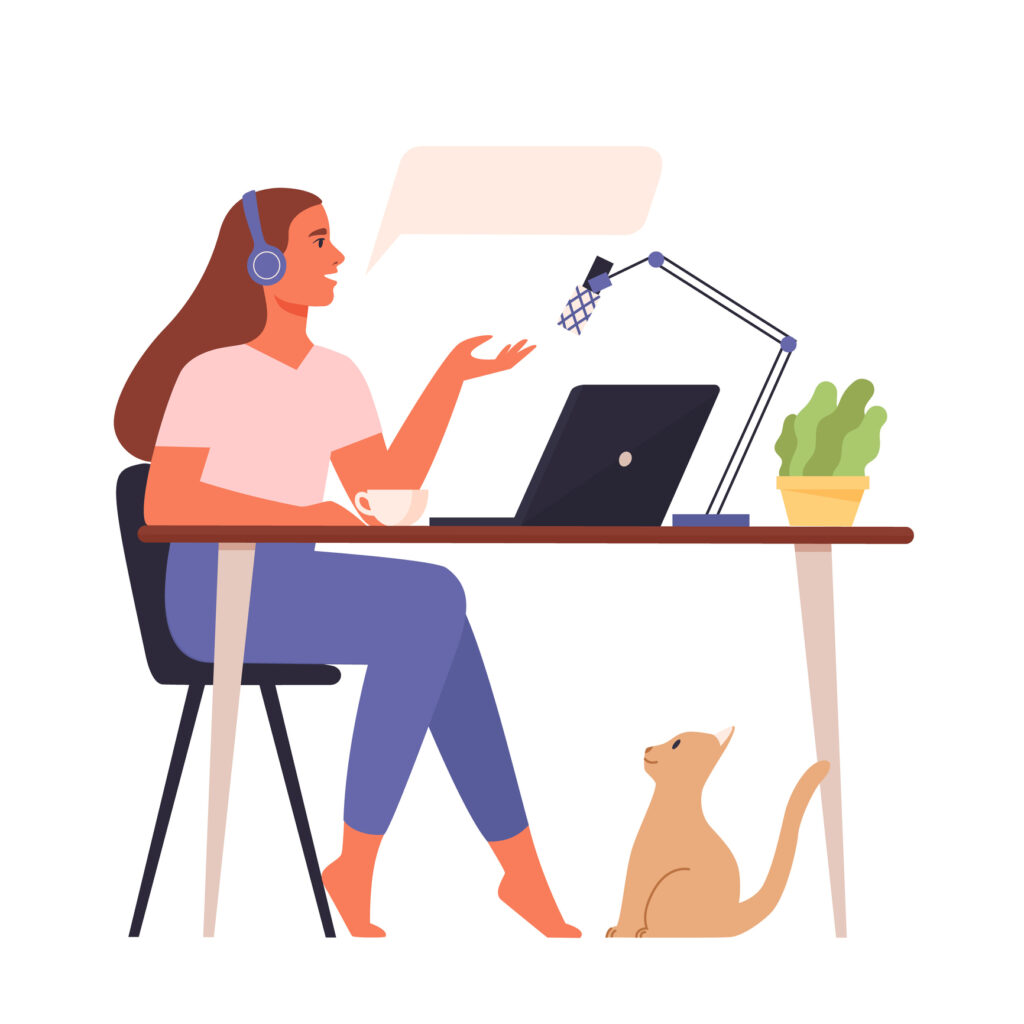 Use Hollywood Project Management to Organize & Simplify Podcast Production...for Free!
PodcastStudio Pro™ is built on the same platform as the #1 app for professional film and television development.

Stop forgetting important references, talking points, and transition segues. Start producing a more meticulous, organized, and consistent show with PodcastStudio Pro™.
Free to use. No limitations.
What is PodcastStudio Pro™?
PodcastStudio Pro™ is the only free, web-based app that helps you plan and organize your podcasts with customizable templates based on the most successful podcast formats.
PodcastStudio Pro™ is designed by the team that created WritersRoom Pro®, the television and film development system that's being used at every studio, broadcaster, and network in Hollywood.
PodcastStudio Pro's™ Features
Free (with our ad-supported subscription)
Browser-based
See all your podcasts on one dashboard
Customizable templates
Plan out your entire season
Organize each moment of each episode
Features non-destructive editing
Outputs to Word or PDF
Drag and drop interface
Collaborate with your team in real time
Integrated calendar for scheduling
Invite as many as 100 collaborators to each project.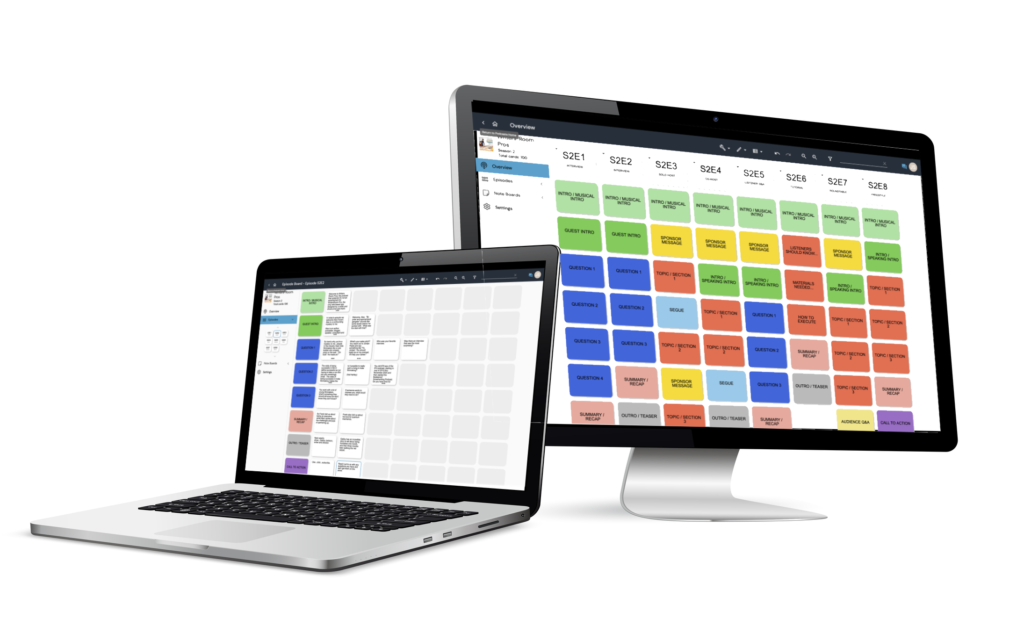 Are you an Agency or a Studio?
If you are producing multiple podcasts with dozens or even hundreds of content creators, engineers, producers, and support staff, PodcastStudio Pro™ gives you a single, centralized dashboard to manage all your podcasts from the same screen.  And don't worry about people seeing podcasts they aren't associated with; only the people YOU invite to each specific podcast can log into that podcast, and that podcast only.
How does PodcastStudio Pro™ work?
Choose a Template For Each Episode
Not every episode is the same, so start at the Overview board and pick a template for your episodes from the eight most common types: Roundtable, Freestyle, Co-Host, Scripted Fiction, Solo Host, Interview, Listener Q&A, or Tutorial.  Plus you can customize each one or create your own template.  It's all you!
Add cards for each beat, question, and moment of your Podcast
Choose your episode, open it on the Episode board, and start creating note cards for each beat and moment of your podcast.  Now you have a plan you can follow and adjust on the fly if you'd like.  All editing is non-destructive, so change your mind and rearrange your cards until you're completely satisfied.
Show notes are no longer an after thought
As you create your show in Podcast Studio Pro, your show notes are created in real time, just waiting for you to download them to Word, TXT, PDF, or HTML.
That means your show notes are no longer something you worry about on release day, they are instead being created for you automatically as you keep your focus where it belongs: production.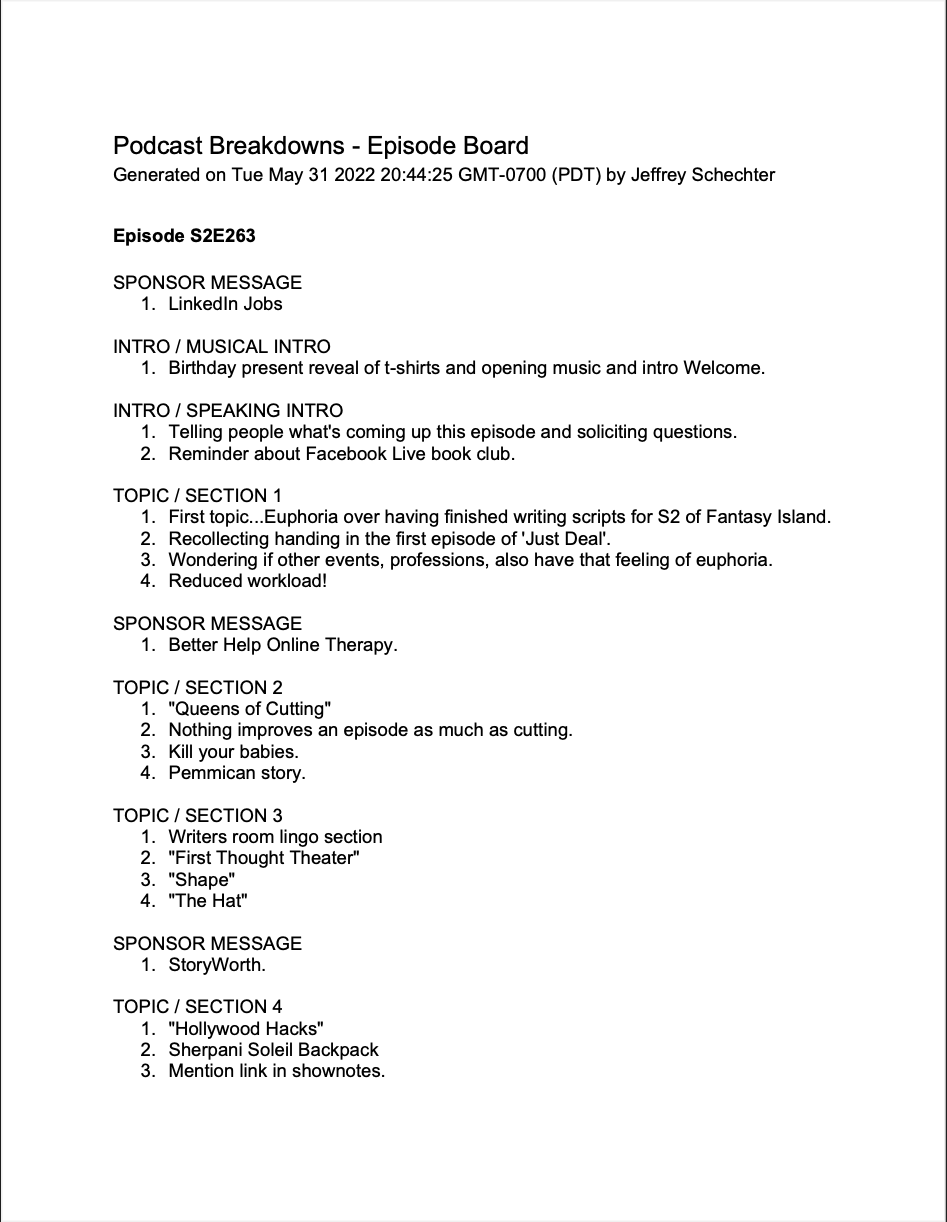 What our users are saying
Popular and influential podcasters love our software.
"I love that I can store my ideas, drag and drop them into an episode, and then export the details for my episode description."
"How did our shows become tighter and better organized this year? That's easy: PodcastStudio Pro™. That's the #1 reason our show audience size grew by nearly 20% in 2022."
"PodcastStudio Pro™ is the solution for podcasters who struggle with organization. Instead of managing multiple platforms and passwords, you can store show notes, episode concepts, scripts, and research all in one place. It's been a lifesaver for my clients - and I've come to rely on it too!"
"Failing to plan really is planning to fail. PodcastStudio Pro™ allows me to organize my thoughts, pick a template for each episode, and makes it easy for me to sound like the professional I am."
"Podcasting only looks easy. Getting it right requires the same prep and planning I do when writing for TV or standup. That's what I love about PodcastStudio Pro™; it's like having a very organized writing partner."
"PodcastStudio Pro™ is easy to use and makes structuring a story feel more intuitive. It's become an integral part of the workflow process on the podcasts I work on now."
PodcastStudio Pro™ has two different subscriptions. Our FREE subscription allows for as many as 100 collaborators on each of your projects and has unobtrusive ads from a select family of podcast supportive companies.

Our PAID subscription eliminates all ads for you at just $19 per month. Functionally, both subscriptions are the same.
Enter your email below to get PodcastStudio Pro™ for free!
We never sell or share your information.  Ever.
Backups saved for 30 days after the subscription ends
Ad-Free*
*You won't see ads, but your invited collaborators will
Backups saved for 30 days after the subscription ends
Studio
100+ to Unlimited Users, Ad Free
Backups saved for 1 year after the subscription ends

Phone, Chat, & Email Support